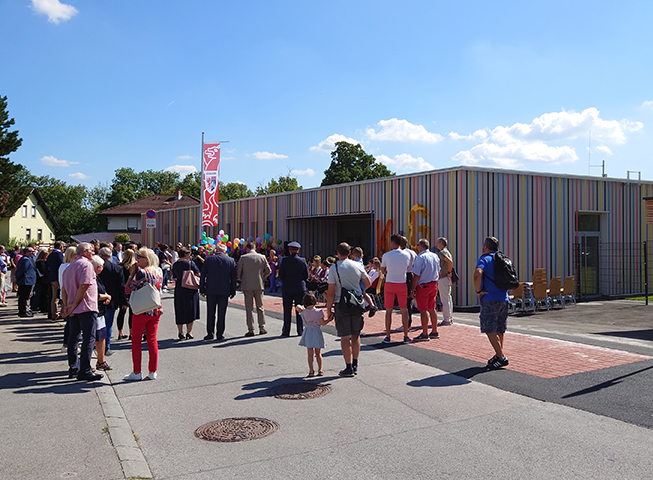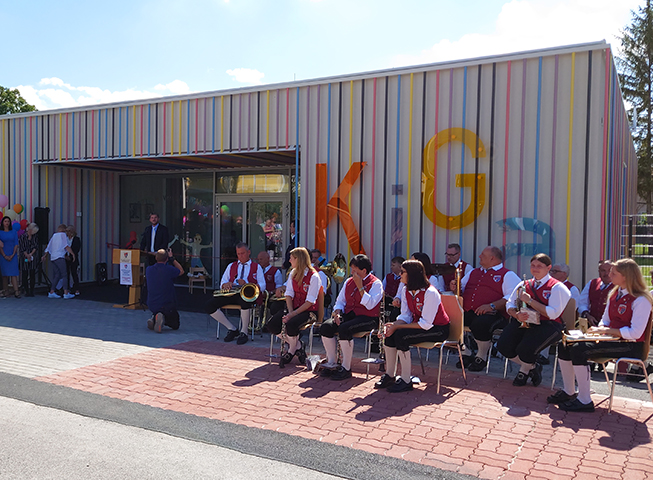 The opening ceremony of the new kindergarten in Schwadorf took place on the weekend before the actual kick-off of the new kindergarten and school year.
Because of the surprisingly hot autumn temperatures, the celebration not only reminded the mayor of the municipality of Schwadorf about the ground-breaking ceremony about a year ago. This time, as well, many guests attended the ceremony, including representatives of the municipality, members of the government of Lower Austria, numerous mayors of neighbouring municipalities, neighbours and residents of the community, as well as proud contractors and, last but not least, the future users of the colourful building.
The kindergarten children rehearsed songs and dances for the grand opening of the building. Afterwards, the priest inaugurated the building and the music association of the community provided the musical closing of the ceremonial speeches.
After the ribbon was cut, the kindergarten children were allowed to do gymnastics on the playground equipment for the first time and the adults were allowed to visit the building's interior.
The opening ceremony ended with goulash and sausages in the outdoor area of the kindergarten and on the grounds of the neighbouring primary school.
We, as the general planning company for the Schwadorf kindergarten, are also pleased to have contributed to the education and to the future of the community of Schwadorf and wish all children, teachers and educators a great start to the new kindergarten year!